Stay in an Earth home or a magical tie-dye house.
If you've ever tried AirBnB, then you know how nice it can be to show up to a quirky and cute home for a weekend getaway. But what about those dreamy, experiential stays that inspire magic and whismy, and bring a new added element to traveling? We wanted to round up 8 of the dreamiest vacation homes we spotted on AirBnB to inspire you for your next trip, so here they are! And what's better, most of them are less than 3 hours driving from Denver!
The Hummingbird Hideaway is just outside of Denver, and is the perfect serene and remote location for a weekend getaway. This 1920s refurbrished log cabin is located above Elk Creek, and is located near some idyllic spots for fly fishing, hiking, mountain biking or kayaking. Guests are recommended to remember the cabin is over 100 years old and to be careful when staying here. Arrive during the day to make for an easy day of traveling to the cabin, get cozy with a good book and some coffee, and enjoy your peaceful escape for less than $150 a night.
Another unique concept for an Air Bnb–earth houses! These are designed for simplicity and is recommended for those who want a weekend surrounded by calm and nature. This Air BnB is a solar-powered earth home with a star-gazing observational tower in Pagosa Springs. It's set on 7 acres of land surrounded by the San Juan National Forest, and this area of Colorado has some amazing geothermal hot springs nearby, as well as hiking and kayaking. While this makes for a good winter destination, it also is quite cool inside so keep that in mind.
If you're looking for an A-Frame cabin with stunning panoramic views, then you'll be interested in booking the Triangle Cabin. "The Triangle Cabin is a unique little a-frame cabin with panoramic views, perfect for a relaxing getaway. Located only an hour and a half from Denver, you can easily escape from the hustle and bustle of city life, and retreat into nature." There's a full kitchen, games, and books to help you unwind, and has a great outdoor patio for stargazing and only around $200 a night.
This unique AirBnB experience is located in Cortez, which is almost 7 hours away, so you'll definitely want to save this for a longer trip. Snooze away in a refurbished 1958 airstream tucked away in the private red rock canyons near a 900 year old Juniper tree. This spot is perfect for people who prefer remote locations surrounded by nature, as its located in the Canyon of the Ancients National Monument. The host, Mark, makes a note that if this place is booked, you can check out his other AirBnB properties as well, which is located in the same area, or you can be added to the waitlist.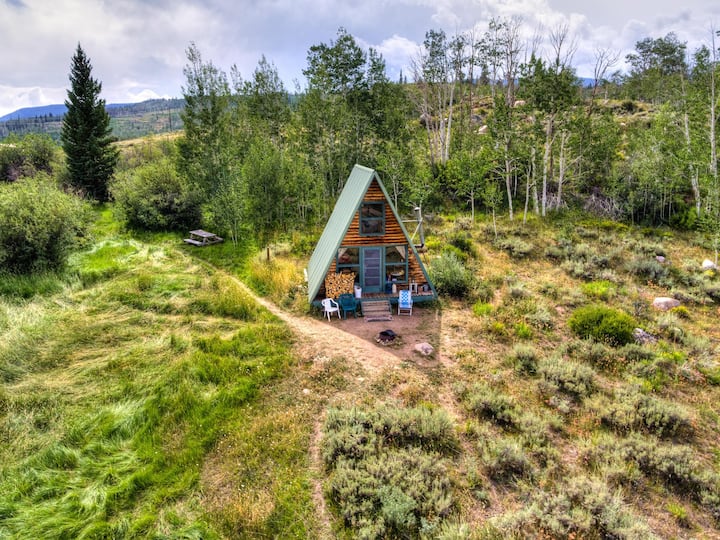 MooseHaven Cabin is brought to you by three wildlife rehabilitators who have decided to open up their unique conceptual cabin to adventurous guests. The cabin is located in Walden, Colorado, which is less than 3 hours north of Denver. The cabin is located off the grid in the remote wilderness, about 9000 feet along the Park Range in the Rocky Mountains. Like we mentioned, this cabin's off grid which means an off grid shower and compost bathroom are just a short walk away, and if you arrive in the colder months you'll have access to the fire-heated stove. The cabin has 2 bathrooms and 3 beds for 5 guests and only costs around $100 per night.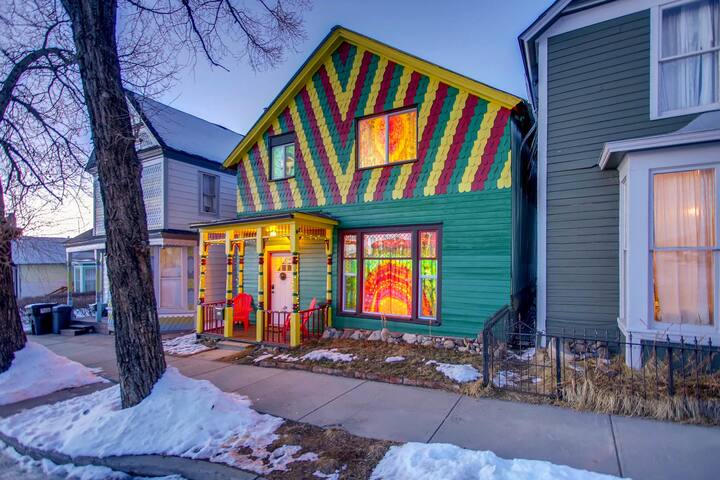 The Happy Hippie Tie-Dye house is a fun and whimsical house which serves as the perfect home base for exploring Leadville, about an hour and 45 minutes from Denver. The home is a fully renovated 1880's Victorian house with a ton of eclectic and bright furnishings inside and out. The house is also 420 friendly, is best for people who don't mind rooming with strangers, and is located across the street from the Recreational Dispensary and Leadville Periodic Brewing.
Located just a 2 hour drive down from Denver is The Fortress, a large cabin with full scale windows that allow for beautiful panoramic views of the wilderness and stunning Colorado sunsets. Large enough to sleep 10, this is the perfect group getaway. The fortress is perfect for the hotter months as it provides a relief from the heat and in the fall months, the landscape changes colors as summer turns to autumn. You can also get your hike on at Mueller State Park, and the cabin itself has many TVs, huge beds, a family room, and hot tub, all for less than $250 a night.
The Little Red Treehouse is located in Lyons, less than an hour from Denver and is the perfect romantic getaway. It only sleeps 2 people, but the space is large while still keeping those cozy vibes you'd want from a cabin meets treehouse. Guests have mentioned how cozy and comfortable the space is, with every detail perfectly thought out to make for a wonderful and welcoming stay. It's even located walking distance from nearby shopping and restaurants.
---